Custom website design for UK charities, nonprofits, and small businesses
Website design agency based near Salisbury, Wiltshire. Affordable, simple, easy to manage charity websites, custom designed to your specific requirements
We strongly believe that your message is the cornerstone of your website. It should be crystal clear, easy to manage, and custom designed to your specific audience. Therefore, it is of utmost importance that your charity, nonprofit or business message is presented within an organised, stylish, and responsive website.
We know the value of your message, let us help you share it
Offering custom website design and ongoing support to UK charities, nonprofits and businesses
Suspire Media was founded in 2001 with a core mission: to deliver bespoke web design solutions that are both affordable and high in quality. Initially focused on serving nonprofit organisations and small businesses in London, we have since evolved.
Today, we're based near the historic city of Salisbury, Wiltshire, and our services extend far beyond our original London-centric scope. We now offer website development services to a diverse clientele, including charities, small businesses, and individuals across the UK.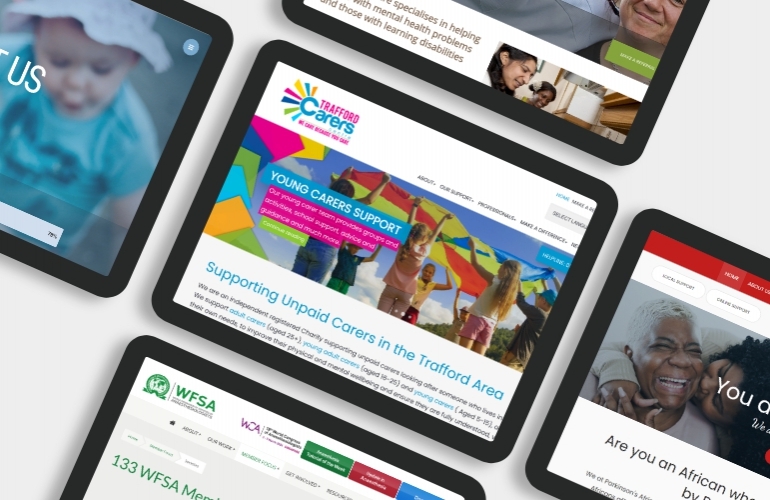 Charity & Nonprofit Spotlight
A small selection of featured charity websites.
Like what you see?
If you like what you see why not download our website planner, check out our portfolio or get in touch, there's no hard sell and we promise you that you will not receive pushy follow-up calls or unwanted emails.
Website Design Services
View all services
Latest charity website projects
View more work
UK Carers Charity

Trafford Carers Centre

Charity & Nonprofit, Manchester, UK

Trafford Carers Centre is an independent registered charity supporting unpaid carers looking after someone living in the Trafford area.

Primary services provided: SEO, CMS, Custom Design, Google Maps, News and Events.

← SWIPE →

UK Financial Support Charity

MK Money Lifeline

Charity, Milton Keynes Nonprofit Org

Debt has a massive impact on individuals: it can provoke feelings of fear, shame, guilt, and anger, making it feel like being in a prison with no way out. MK Money Lifeline offers a debt advice service for anyone in need in Milton Keynes. MK Money Lifeline has been operating as a charity since 2012.

Primary services provided: SEO, CMS, Custom Design, Instagram, Google Maps.

← SWIPE →

Microsites

Tools for Charities & Nonprofits

www.micro-sites.co.uk

A microsite serves as a dedicated promotional tool, commonly accessed through a parent website or a unique domain name. They are generally packed with impressive features, have fast loading times, and look great on desktop and mobile.

← SWIPE →
Testimonials
Read more testimonials.
Trafford Carers, UK
I began working with Suspire Media in 2021 to design a brand-new website for the charity I work for. The first time I spoke to Leeroy, he wanted to find out as much information as possible about the charity. Devan Storey.
Trafford Carers Centre is a Manchester based charity
parkinsonsafrica.org
Leeroy's time and efforts in assisting us with the development of our website are greatly appreciated. We are pleased with the final product and look forward to using our new website. Thank you! Tania Park.
Pan-African Parkinson's disease charity
Safety Management Ltd, UK
Leeroy understood our business and provided exactly what we wanted. We expected the process to take much longer than it did. Leeroy has been friendly, considerate and very easy to work with. Cindy Moxham.
SML is a health and safety business based in the UK
Bag Books, UK
We are delighted with our new website created by Suspire Media. It fits the brief perfectly – contemporary, creative, informative and easy to navigate. Leeroy gave us excellent advice throughout the process and welcomed our ideas. Camilla John.
London based learning disabilities charity
Children Change Colombia
We are really happy with the finished design! It's fresh, bright and clear. We are really happy with the finished design! It's fresh, bright and clear. It definitely presents Children Change Colombia as we would wish the public to view us. Hannah Jefferies.
Columbian based childrens charity
louisecollinsvoice.com
I came to Leeroy with a website that needed optimisation and updating. I already liked the design but I had no control over the content and no one was finding me on Google - which defeated the whole object of having a website in the first place! Louise Collins.
London based voice coach
---