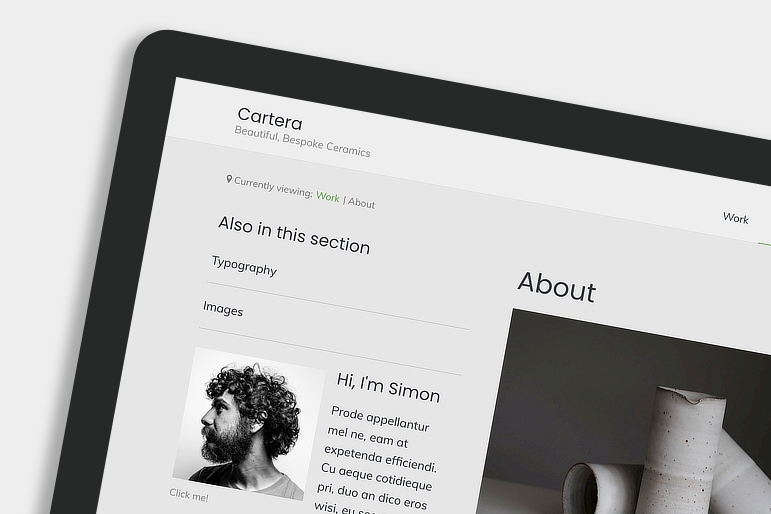 Catera is a base, budget template for Creatives.
Starter websites for those working with a limited budget
Posted: 17 August 2022 Posted by: Leeroy Lugg. Share via: Twitter / Facebook
---
give or take.
As a rule of thumb, we always recommend bespoke website design over an 'off the shelf' template based solution. However, in these uncertain times, we realise that not all businesses or individuals have the kind of budget - or for that matter, the time and resources that bespoke design demands.
Packages
To address this we have created a budget start-up package that blends template-based website development with bespoke design.
The start-up package is a complete website solution with a simple pricing structure and includes a CMS, news, responsive design, site planning and optional website hosting.
The templates
Introducing Kolur - the perfect base template for Charities and Small Businesses. With its outstanding default features, Kolur is designed to meet your needs effectively. But that's not all. Kolur can be easily upgraded with additional style/layout components (add-ons) to elevate and amplify your message. Furthermore, Kolur offers a diverse range of default 'content types or content blocks' to choose from, and we're always ready to provide more upon request.
Introducing Catera - a dynamic base template crafted specifically for Creatives. Catera boasts a visually captivating interface, enabling website owners to effortlessly showcase their work through stunning graphics and photographs. And that's just the beginning. Catera can be enhanced by upgrading to include a simple PayPal shop, allowing you to effortlessly sell your creations.
Introducing Folio - a flexible base template for Artists and Photographers. Simplify your portfolio with Folio's intuitive and user-friendly design. Whether you're an artist or a photographer, Folio provides an elegant platform to showcase your talent. And just like Catera, Folio can be upgraded to include a simple PayPal shop, giving you the opportunity to monetise your artwork seamlessly.
By choosing our base templates, you gain access to a world of possibilities to customise and enhance your online presence. Select the template that aligns with your goals and ambitions and then get in touch to discus your project in detail.
View a live example (built with the 'Folio' template): https://www.neilweerdmeester.co.uk
---
Comments are closed on this post.
---